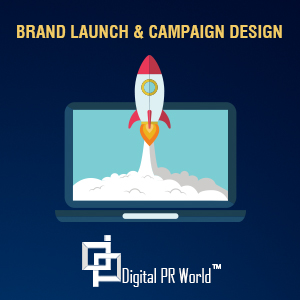 100s of businesses die in silence as their owners don't speak up!
Is it the lack of exposure that's slowing down your business? Do you think that your product or service needs to get out in the world? Successful Businessmen know that their product will be valued if it reaches the hands of the right customers. That's why they are choosing formal brand launch over anonymity. Keeping your business offline in the age of the internet is a quick way to kill it. 
Are you ready to talk about this? Talk to your spouse or talk to your pals! And definitely talk to a Brand Launch Agency. They have a better understanding of the market and the business! Are you overwhelmed? Don't be! As we will help you start your climb by telling you about the 3 basic premises of Brand Launch.
What is a Brand Launch Agency and how they can help?

How do Brand Launch Campaigns and Strategies work?

How Brand Launch Agencies can help you in India?
Customers drive the cash flow and not the other way around!
Maybe you have the best product in the market. Or maybe you have a product that no one else has. So what? Customers just don't come and buy products! They care more about the brand name. Attention! A big name will pull more customers partly because of their fame. After all "brand value" is extremely important! 
But the big brands weren't this big when they started. Here comes the importance of successful campaigns and strategies that shoot the name of a brand to the minds of prospective customers. So, let's get back to the 3 basic premises – but in greater detail.
Brand Launch agency

 – You have a great product or service. Amazing! But before you even formalise the name of your company, you should contact a brand launch agency. Take their help to decide the name of your brand that pulls customers' attention. 
AN INCIDENT – The famous cosmetics brand – Lakme would have been named Lakshmi Enterprises if Jawaharlal Nehru didn't interrupt. Lakme is the French name for Goddess Lakshmi and France has always been the undisputed king of the cosmetics world. As women always had an affinity towards French cosmetics and French names in the cosmetics world; Lakme as a brand name maintained both the essence of India and kept the company alive. But Brand Launch Agencies just don't find a suitable name for your company, they do more!
Brand Launch Campaigns 

– BLAs design memorable logos, banners, websites, package & label your products, write messages that drive sales, write messages that create the reputation of the company and rebrand an existing brand. Brand launch campaigns start with market research and then move to competitor analysis. A great agency will always persuade you to start with research as research bursts the bubbles of preconceived ideas and myths about the market.
Brand Launch Strategies – How to find a suitable agency in India that does all of these things and brings results? Your search should start online. You should read reviews and compare multiple agencies before sticking to one. Look for agencies that prioritize strategy. Strategizing a good digital campaign involves a combination of all of these aforementioned methods in the best possible way along with eCommerce onboarding, influencer outreach, digital and print PR, and performance marketing for better exposure. 
PHEW! Are you burdened by information? Don't be! Just read our blogs and you will have a clear picture. Also, we do all of this stuff and of course, we are result-oriented!