Introduction to Bengali News Media
In 1780, the publication of Hickey's Bengal Gazette (Calcutta General Advertiser) in colonial Calcutta (now Kolkata) marked the beginning of a long history of news media in Bengal. It was the first-ever newspaper printed in Asia, and was published until 1782, when the East India Company seized its press and types. Ever since, however, the media landscape of the region has evolved steadily, mostly in-sync with the concurrent changes in political scenarios.
In early 19th century, Bengal witnessed a swift rise in intellectualism, alongside its already-existing, rich cultural heritage. Driven, primarily, by the Bengali middle-class intelligentsia, this led to what is now called the Bengal Renaissance. This was also the time for the initial growth of a dynamic press culture in the region. Alongside Hickey's Bengal Gazette (English-language), four vernacular language newspapers were also published: in Bengali, Urdu, Hindi, and Persian.
On May 23, 1818, Bengali journalism was born with the publication of Samachar Darpan from the Serampore Mission Press, under the tutelage of William Carey and Joshua Marshman, among others. By the time it went off print in 1852, Rammohan Roy's Sambad Koumadi was already being published since 1821. The first Bengali daily newspaper, however, was founded in 1839 by Ishwar Chandra Gupta: Sambad Prabhakar.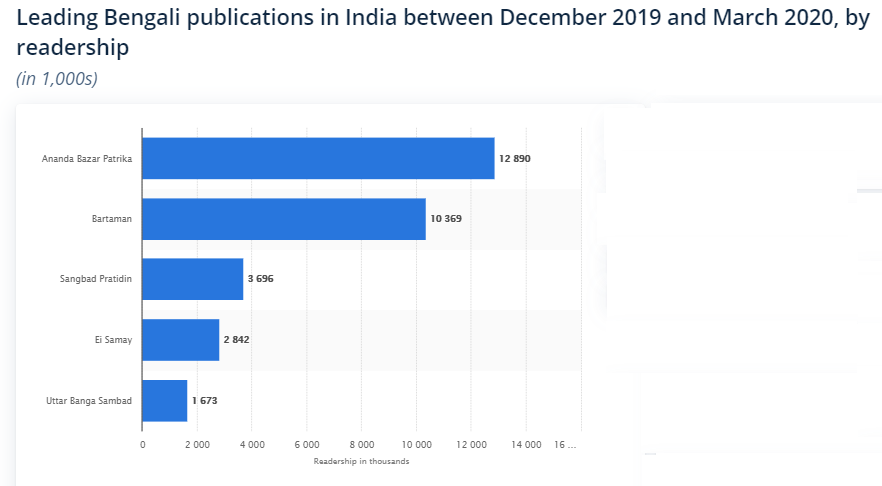 How we can assist you in releasing content on Bengali News Portals:
The Advantages of a Press Release For Your Website Or Brand:
If all you do is crank out article after article on your website and hope to attract organic traffic you won't get very far. You could have the best product on the market, but if no one knows about it or has seen it, it will not do very well.
This is where the power and effectiveness of a well-crafted press release comes into play. Some of the major benefits of a press release include:
Immediate exposure to an established audience
Affordable cost
Potential sales increase
Major SEO benefits
Increased web traffic to your website
Social sharing potential
Builds a working relationship with PR firm
Possibility for return customers
Helps you establish a new marketing channel
Provides authenticity to your brand
Package #1: Online Online News Releases.
1.  http://bengalnewsgrid.blogspot.com/
2.  http://newsabangala.blogspot.com/
3. http://www.thespianmagazine.com/
4.https://storyonlineus.blogspot.com
5.http://shubhabori.co.in
6.https://www.sambadsafar.com/
7.https://www.deshmanus.com
8. https://www.asianprimetime.com/
9.http://www.ibgnews.com
10.http://Cinekolkata.com
11.https://new7tv.com
12.https://timesnation.press/
13. http://timesbangla.news
14.https://www.hnexpress.in/
15. https://www.haqiquatnews.com/
16. http://thebengal.in
17.https://www.biztechnews.in
18. https://viswadarpan.blogspot.com
19.http://www.thekolkatamail.com
20. http://www.amritobazar.com
21.http://insidesports.in
22. Kolkatanewstoday.com
Total cost INR 26,000 + tax
Aajkaal 25, 000
Zee 24 ghanta 90, 000
The Wall 32,000
Package #2. Our Proposal, TML and Commercials: [Print + Online mix]
Anandabazar Patrika
Bartaman Dainik Sambad
Dainik Statesman
Ebela
Ei Samay
Ekdin
Kalantar
Sakalbela
Sangbad Pratidin
Uttarbanga  Sambad
Yogosankha digital
https://aajkaal.in/
https://www.thewall.in/
The coverage we can expect: 5 – 7 platforms with article releaseCosting will be approx: INR 45,000 + tax.
Call us at +91-9674975029.