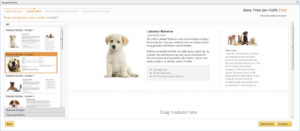 Amazon A+ content better conveys the value of the product through the use of rich content. A+ Content can include high quality images, video and comparison charts. Organic conversion rates can improve as a direct result of A+ content, specifically rich content which provide shoppers with a visual feature of the vendor's products. And this actually create trust to the shoppers and sales improves organically.
How to Create an A+ Content Detail Page for Product ?
The first step is to submit an A+ detail page request.
The Second step is,vendors must select their A+ detail page package:
Self Service Module
Amazon Builds For You Module .
Amazon offers a selection of various modules including Standard & Advanced,vendors can select any modules to use on their product page. For a single Amazon A+ document, you can include maximum 5 modules at a time. So you have to be selective which adding the modules/sections.
How Amazon A plus  is beneficial for the brands listed in Amazon ?
Its promises to enhance your product detail page with visuals and enhanced marketing content to overcome purchase hesitations and drive brand building.
With A+ content, you get the opportunity to use additional images, more creative copy, and even comparison charts to convince customers that your product is the best in its class.
A plus content can increase sales on average 3 to 10% by informing the consumer about your product and brand.
Its build your brand's look, feel, and awareness.
Its easy to tell your brand's story, highlight why your product is different, and explain what your brand does best. You can showcase unique value points for consumers who want to know why they should buy your product.
Amazon sells millions of products, so standing out is a must. A+ content helps you capture your customers' attentions within.
Examples of Amazon A+ Enhanced branded content:
https://www.amazon.com/Matcha-Green-Tea-Powder-4oz/dp/B00NYYVWFQ, 
https://www.amazon.com/Teabox-Organic-Breakfast-Freshest-Ingredients/dp/B01M0ZQ201, 
https://www.amazon.in/Spicefield-Kashmiri-Mirch-Powder-500g/dp/B01LZP39JR 
Amazon A+ content and Brand store page example we developed:
The task is to create Amazon A+ content templates for products. Broad scope of work:
– Photoshoot (if required)
– Content / copies
– Design / layout
– Uploading the content
Call us to develop Amazon A+ Brand enhancement content. Dial: 9674975029 Now.

Amazon A+ Branded Content Design Pricing:

1. SKUs range 1 – 10: Creative modules + Content +  1 lifestyle complementary image – INR 1200 each SKU
2. SKUs range 10 – 25: Creative modules + Content + 1 lifestyle complementary image – INR 1000 each SKU
3. SKUs range 25 – 50: Creative modules + Content +  1 lifestyle complementary image – INR 850 each SKU
4. SKUs range 50 – 100: Creative modules + Content  + complementary store front design- INR 700 each SKU
5. SKUs range more than 100 : Creative modules + Content  + complementary store front design – INR 600
Amazon A+ Content Design
We can also customise a package for you. Please contact us for more information.
Digital PR World is rated 4.8 out of 5 stars | 6 Reviews from Facebook