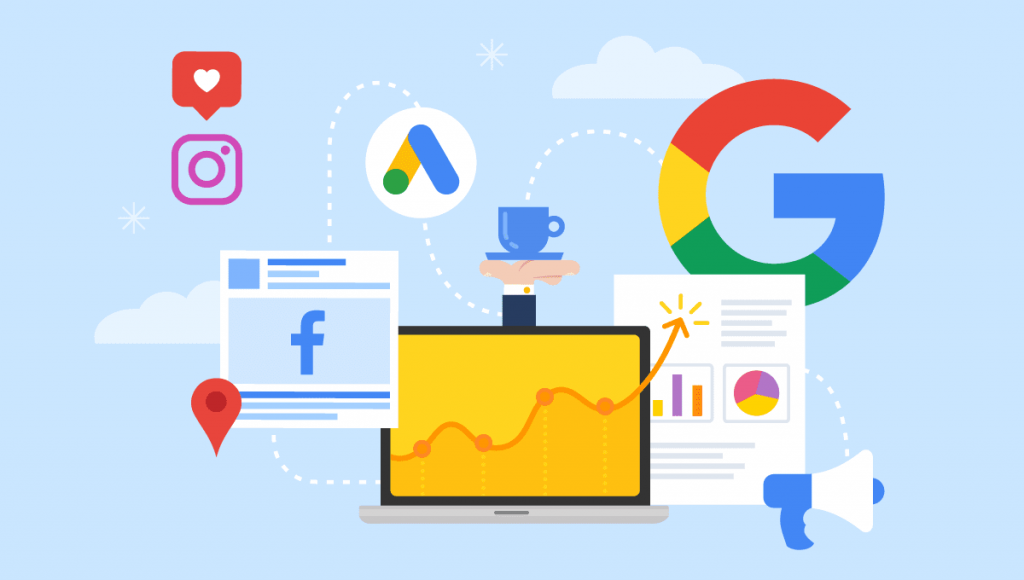 Get ready with the following before you jump into digital and ecommerce advertising:
The target audience of the product or brand
The Target markets, areas, cities
Who are the competitors?
How are the products been searched in Google?
USPs of the business
Any brand guidelines you have? (we shall guide you on creative and copies)
Basis the information above, we create digital advertising campaigns for you.
Ecommerce Advertising strategy, budget and channels:
Full seo overall site,
Market place listing promotion on Facebook,
Conversion funnel analysis,
Tracking and custom report setup,
Smart ads on google, no shopping ads, on google as the shopping ads are stopped,
Google display ads, no search ads, with 3 types of campaign, in-market audience, 2 competitors keywords, 3. Search intent keywords.
YouTube video creation with product benefits, features, or whichever is best for the brand 3 per month, google business marketing related to products
Facebook post 3 per week so total 12, out of 12, 4 will be behind the scene, 2 will be festive, remaining 6 will be product related, promotion-related.
Amazon marketplace promotion.
Google smart ads with 200 budget per day, Only for brand discovery, put no expectations on sales.
Few blogger or influencers outreach.
Market place listing, product sale ads, brand promotion with INR 200 budget, custom audience mapping with existing customers list, 4 types of audience set creation with less overlapping, remarketing, Instagram story, etc.
Digital Advertising Packages Designed to Simply SMEs Advertising Concerns:
With over 12 years of Digital Agency experience working with small to Enterprise level clients, we know our way around the Digital Marketing world and are happy to share that expertise with you. We can assist you with your online advertising efforts whether you're struggling over a conversion tracking issue, need a custom website designed & built, or are looking for a full-blown digital marketing team.
GOOGLE ADS (DISPLAY, SEARCH, AND VIDEO) ADVERTISING
Whether you need a local strategy or a nationwide campaign across multiple platforms, we can help you design the strategy, implement the tracking and optimize your campaign to ensure you're getting the best impact for your budget.
GOOGLE ADWORDS
Google Adwords Pay Per Click (PPC) campaigns are one of the fastest ways to get qualified traffic to your website. We've demonstrated high return on investments with a lower cost per acquisition than traditional media. Let's breathe some life into your PPC program.
Keyword research tells us how your potential customers search for your products or service
Set up of Adwords campaigns, ad groups, ads, and keywords
Geotargeting your advertising to reach only the specific areas you service
Implement Google Analytics Goals and Google Conversion to track your ROI
Customized extensions to further define your program
Daily budget tailored to your business model and budget
LINKEDIN ADVERTISING
LinkedIn is a powerful way to reach your audience, especially if you're a B2B. The targeting capabilities, as well as custom segments, allow you to hone in on exactly who you want to reach while maximizing your efficiency.
LINKEDIN ADS
LinkedIn is a great way for companies to reach targeted prospects within the business community. LinkedIn ads allow you to target narrow niches that you might not be able to reach with an Adwords or Bing Ads campaign. Directing traffic to a well designed LinkedIn Company page with targeted content, video, and contact information can prove profitable.
We'll find your target customers through LinkedIn demographic targeting: companies, industry, company size, job title, school attended, skills, groups, gender, and age
Set up of campaign with professionally designed ads
Optimize Company page with professional graphics and product page targeting
Implement Google Analytics Goals to track ROI and progress
SOCIAL MEDIA ADVERTISING
Knowing where to start and where to focus your time is half the battle. Your customers want to get to know you, not just what you sell. We'll guide you through our data-driven approach, explaining how it will impact your business' bottom line to ensure you don't waste your time.
FACEBOOK ADS
51% of consumers are more likely to buy a product or brand after Liking them on Facebook. Pay Per Click (PPC) campaigns on Facebook have become a great way to increase your fan base and draw qualified prospects into your website. With our Like Gate Pages and email sign up forms, we'll have your Facebook page looking fabulous and appealing in no time.
We'll find your target customers through FB demographic targeting: gender, job title, age, workplace, education, status, likes, and interests
Set up of campaign with professionally designed ads
Sponsored Stories ads
Ads for events
Offer claims
Page Likes
Includes reporting and analytics to monitor efforts
CONVERSION OPTIMIZATION
Knowing how your website and landing pages convert visitors into leads is a critical component of any campaign but most businesses take a set it and forget it approach. Let's analyze the data and make your site convert an efficiency machine.
REMARKETING
There will always be people who convert on your website after only visiting it once. However, this is a super small percentage coming in at an average of 2-3%. What if we told you we could increase the number of conversions with existing traffic? Unleash the power of remarketing.
AMAZON ADVERTISING AND PROMOTION
Ad promotion for sales and branding
20 to 30 % sale hike within 3 to 4 months
Sponosred ads and competition product targeting ads
Budget 300 approx each day each product
Our Charges: We charge 12% of the total ad spent but not below INR 6000 + tax. (monthly).
Creative, landing page charges are separate.
Do call us at +919674975029 to understand the details: