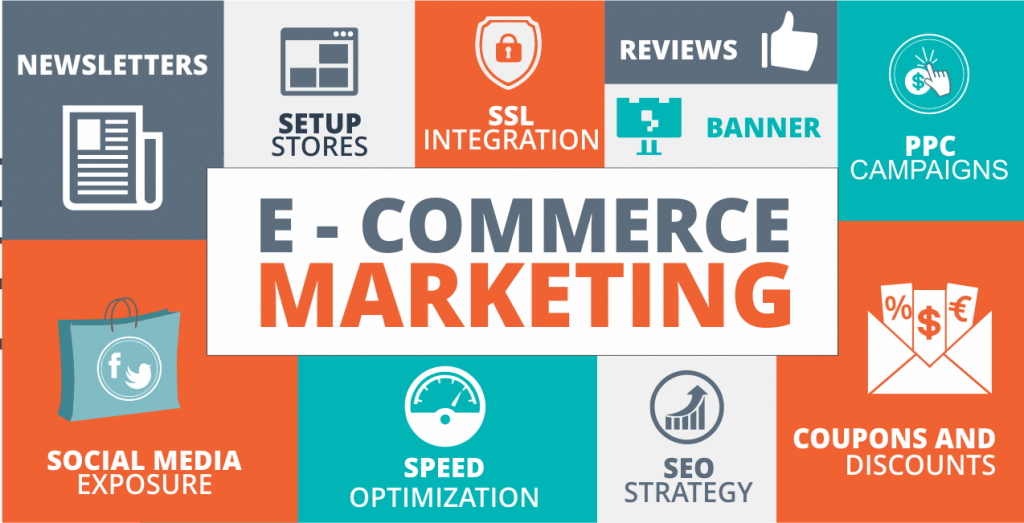 The Indian e-commerce market is expected to grow to US$ 200 billion by 2026 from US$ 38.5 billion as of 2017. Much growth of the industry has been triggered by increasing internet and smartphone penetration. The ongoing digital transformation in the country is expected to increase India's total internet user base to 829 million by 2021 from 604.21 million as of December 2018.  India's internet economy is expected to double from US$125 billion as of April 2017 to US$ 250 billion by 2020, majorly backed by ecommerce. India's E-commerce revenue is expected to jump from US$ 39 billion in 2017 to US$ 120 billion in 2020, growing at an annual rate of 51 per cent, the highest in the world.
Ecommerce digital services are meant for start-up D2C brands mainly since they want to explore both digital marketing and marketplace operations like amazon and flipkart. The reason they would choose ecommerce and digital services because 360-degree marketing they need to make sales of their products.
So how to take advantage of this kind of immense growth opportunities?
segments of overall eCommerce Digital marketing services:
Ecommerce website – Own asset

Ecommerce Website and conversion and marketing-ready features
Social media – branding, offers, sales, coupons
Brand marketing and communication
Product ads/shopping ads
Emailer / Automation
CRO with the growth of the organic traffic
Brand storytelling even on ecommerce website /content virality
Launch campaign if any

Ecommerce marketplaces like Amazon, Flipkart etc

Strengthening the presence in one of the eCommerce channels
Ad promotion keeping the ACOs in mind – need to generate sales at the same
Participate in Platform-specific programs – Big billion days, Mega sales drive etc
These will allow you to get the visibility and eventually the account managers would give you some value
Ecommerce marketing strategies and services are more or less the same as E-commerce digital marketing strategies. If you are a start-up, it is advisable to start with your own website and one of the major marketplace. Since you are a new player in the market, brand building along with sales would be the key to success. But you should have a presence in all the marketplaces.
Ecommerce digital Marketing services in amazon Flipkart ecommerce etc
Why Amazon in the first place especially in India?
Billion people. No 1 in India
Platform is ready for the conversions
They do their own promotion – digital, ATL, BTL
Great platform to promote ads, do the sales
Fantastic usage of brand communication, the creative part especially
Have the advantage to do an exclusive launch
They share the in market data
They have the pricing detail of all real estate banners for branding and sales
Amazon India's marketing strategy is the key to sales. As an eCommerce marketing company, we do the following:
Ecommerce digital marketing and strategy
CHECK OUR Ecommerce digital marketing service package below:
MONTHLY Ecommerce DIGITAL marketing services: Base Package
Digital – SEO, Social media, PR, Outreach Mix –  [BASE PACKAGE]
a. SEO (entire website and pages, keywords, on-page, interlinking etc)
b. Content (3000 – 3500 words approx)  (Blog content + webpages)
c. Promotion: Business listing, 2 guest blog post/outreach (as per business category), Google map optimisation,
d. Social media (Monthly calendar creation, post, ad campaign, management, reporting, 8 creatives, copies, contest, etc) – ad  budget is extra and in actual
e. Website improvement suggestion, CRO suggestions, technical seo suggestion
f. Strategies paid ad campaigns on social and google media – for brand awareness and consideration
g. Reporting, tracking, measurement etc.
h. Amazon and Flipkart Management – 2 platforms only
Commercials: INR 32,000 + tax each month, Min 6 months commitment. 
Ecommerce Digital Marketing Packages —- SEO, Content, Social media, Creative, Copies, PR, Outreach, ad campaigns Mix – Advance Service Package
Complete SEO of the business site
Keywords research, Focus set of keywords, page creation, content plan, blog ideas
Onpage – Title, description, H tags, keywords, robots, speed, UX suggestions
5000-word content (web content + blog posts) [ will work on as many keywords as possible in first 6 months]
8 -10 creative with ad copies for social media + adaptation for social channels and website banners as per requirement
1 cgi video (product images you have to provide us)
Ad campaign design, monitoring and management reporting (ad budget is extra and charged in actual)
Online PR management cat b and cat c (In 6 months – 5 – 7 PR links).
5 – 6 influencer outreach (bloggers and instagrammers) each month (fashion, lifestyle as per industry categories etc)
5 – 10 standard links each month [QnA, business listings etc]
Blog post with interlinking + adding 5 – 7 reviews to Google map + business verification
1 set ad campaign for performance marketing
CRO suggestions and implementation with in house developers
Strategies paid ad campaigns on social and google media – for brand awareness and consideration
Reporting, tracking, measurement etc.
Commercials: INR 48,000 + tax each month; Min 6 months commitment.; Payment mode – Advance.
MAJOR DELIVERABLE FOR ECOMMERCE ACCOUNT MANAGEMENT (MAINLY AMAZON AND FLIPKART): INR 4,000 + TAX UP TO 50 SKUS
Seller Support Communication
Returns Management
Advertisement Sponsored Ads
Coupons Runs
SALE Participation
Keywords Research and Updations
Claims Handling
FBA participation and arrangements
Account Health and Performance Management
Amazon Branding Buy Box maintenance
Feedback and Reviews Management
1 Review cost INR 100 approx + free product
Content and bullets to make thick content for amazon SEO with target keywords – one time work – each word INR 1 + tax
Secondary images or lifestyle images – each image will cost 300 INR
A+ content with brand registration – INR 1800 + tax each A+ one time
Brand store INR1800 each + tax one time
Feel free to discuss your eCommerce digital marketing services with us. Call 9674975029.