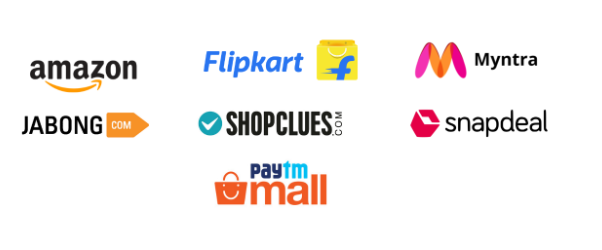 Getting customers to your Amazon product and brand pages is only half the battle. Once you have attracted eyes to your products, the next step is impressing customers enough to get them to spend their money.
Buying decisions are influenced by A+ Content (both for Amazon Flipkart Nyka and Big Basket), which better conveys the value of your products through the use of multimedia. You can increase your conversion rates by properly utilizing A+ Content that will make your products much more visually appealing. DPW uses proven A+ Content strategies as part of its comprehensive Amazon marketing services (AMS) to enhance sellers' offerings.
Creating a quality, memorable brand is what will generate long-term business for you. Any Amazon seller who is implementing a long-term strategy needs to establish and promote a brand. Your goal is to create a business that really relates to your buyers, creating lifetime customer loyalty for returning sales and sustained success.
In 2018, Amazon introduced a way for small- and medium-sized businesses to flourish on the world's largest eCommerce search engine. Amazon Storefront is an optional, separate section for sellers to highlight their small businesses. Amazon Storefront features a variety of product categories for U.S.-based businesses. Through our Amazon Storefront SEO techniques, we help you surpass your competitors.
HOW WE DEVELOP AMAZON A+ CONTENT: Content Marketing has now 'raised the bar'. Content marketing in digital arena is gaining new and innovative ways of making better ROI. Amazon enhanced content being the new trend in content marketing allows sellers to modify a product description as per their product images and text.
PURPOSE OF CREATIVE AMAZON A + PLUS CONTENT FOR THE BRANDS: The informed buying decision is the concept that drives Amazon to promote commodities through A+ content. It is categorically meant for first-party (1P) Amazon vendors. Comprehensive comparison charts, narrative copy, interactive displays, bigger images, qualitative video content integration are some of the special features that can be added through Amazon A+ Content for showcasing the brand precisely.
AMAZON BRANDED CONTENT GUIDELINES FOR A+ CONTENT: Amazon A+ content is a very new concept that boomed out in the beginning of this year. The basic A+ content was precise but now the A+ content has some special features for accomplished digital shopping flamboyance that vigorously influences informed buying decision. Its only endeavor is to focus on 360 degree closer display of product. Before you create your account and apply for an ASIN or any merchandise you need to follow some Amazon brand guidelines to yield the best result.
WHY & HOW TO DO CONTENT MARKETING VIA AMAZON: While content marketing is rendering its prominence of achievement, Amazon launched its Premium A+ content module. This Amazon A+ Content facility is an upgraded version of Basic A+ detail which enables the first party (1P) Amazon vendors to feature their products with added video content, high configuration and intense view of images, comprehensive comparison chart, narrative product description and interactive display.
AMAZON MARKETING MIX STRATEGIES: Generally speaking, the marketing mix refers to the set of actions, or tactics, that a company uses to promote its brand or product in the market. The 4Ps make up a typical and traditional marketing mix – Price, Product, Promotion and Place. However, nowadays, the marketing mix increasingly includes several other Ps like Packaging, Positioning, People and even Politics as vital mix elements.
INCREASING MARKET-PLACE SALES: 6 ACTIONABLE ITEMS FOR MANAGERS: This article for ecommerce managers, executives and digital people who would be interested in increasing the sales over the major marketplaces like: Amazon, Flipkart, Bigbasket, Nykaa and Specific niche market places for specific kind of products.
QUICK NOTES ON AMAZON INDIA ECOMMERCE SALES OPERATION: If you have a wide range of products and/or combo products or variations, it is better to have few star products with tags like amazon choice or best seller. More product range (if you are not brand or not spending money or not doing some exclusive deals) means low visibility organically since the space allocated to new seller is limited. So it is advisable to launch with few products, make complete use of the space given, then keep moving slowly slowly.
WHY YOU GET INSPIRED BY THE UX OF FLIPKART OR AMAZON? While designing your own product based ecommerce website (FMCG, Skincare, Apparel and others), you will have a lot of creative ideas (along with your creative agency) for the website to make it better, personalised, interactive and conversion oriented.
Amazon SEO Services India: There comes the magic of SEO and optimizing listing on Amazon India marketplace for your product category.
Ecommerce Product uploading and listing services:  Ecommerce product upload service involves data entry related to your products in the appropriate categories. Ecommerce related product listing services include placing of product in Amazon, eBay, Magento, and several other eCommerce sites according to product specifications like colour, shape, size, price.  
Nykaa  A+ Content Guidelines:
Do not include external fonts. Nykaa uses its default fonts which is Source Sans Pro.
Do not include external plugins like Bootstrap or any other.
Do not Include any Doctype, html, head, body, viewport, meta and script tags.
The class and id name should start with aplus. Example: .aplus-container, #aplus-row
File size should be less than 1.5 MB(including images).
Individual image size should be less than 300KB.
Content should be responsive.
html elements(like h1, p, span etc.) should use with parent elements(like .aplus-box p, #aplus-inner span) in style.
Information reference: https://www.nykaa.com/aplus-content-validator
Feel free to call us and discuss the scope of work in Ecommerce marketplaces India: 9674975029.