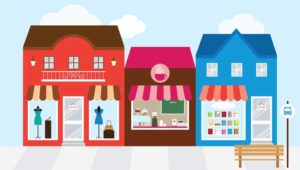 Many owners of brick and mortar stores believe they don't need to have digital presence. Why? It's because they think digital is for wide and large audiences, which is beyond their scope and it's not worth of their effort too.
Do you keep such belief! Think again.
Dwindling gap between online and offline –
Gone are those days when people looked at these two entities separately. Search engines are filling pages with local search results. In case you want to buy anything locally, for an example, a mattress, and wish to check options available in the neighbourhood, you straight way "google" it before actually hitting the market. These local searches are highly transactional and make lot of business sense. Without digital presence your store will never make it to online search list. Result – you will miss potential customers.
24X7 accessibility –
Many offline stores today have a presence online through business directories, websites, social media pages. They allow customers to contact, enquire and, sometimes, even place order online. For them business never stops, even after they call it a day at their brick and mortar stores.
Customer engagement –
In brick and mortar set up you hardly get a chance to engage customers. Interactions are mostly transaction based. On the other hand, web is a great place to connect and share, especially today when people are always online. You can post useful and interesting content in your blog, FB page or on website; can also request reviews, testimonials and feedback from customers. These are very effective in gaining people's attention and loyalty.
Easy and affordable marketing –
Being an offline store you generally go for newspaper ads, billboards, TV and radio air time for promoting your business. These are no doubt expensive. Alternatively, web can be a lot more affordable and effective for marketing you business. Tracking impact of your digital marketing initiative is also very easy, unlike other traditional options.
Improved customer servicing –
Customer servicing is one of the key issues that decide to repeat business from existing clientele. And it is not just about how you are providing the service; rather it includes the whole experience – starting from requesting the service to resolving the requirement. There lies too many stages and fault-lines in between. With a digital presence, you can definitely make this whole experience more coherent and manageable as you always have direct contact online.
Customized and Personalized Communication –
Who does not love personalized attention! Your business communications also need personalization. It can be definitely achieved offline but things get very cumbersome. The digital process and online presence make the whole effort a lot easier and affordable.
Online and offline convergence –
E-commerce and brick and mortar stores are not competitors today in a strict sense. Online market places are great opportunities for new business for the latter while the former utilizes offline stores for distribution support. So, it makes perfect sense for brick and mortar stores to have a digital presence.
Hope you understood that without a digital presence you are missing out on these opportunities every moment. In case you are eager to know more get in touch.
Digital Marketing Package for Small and Brick Morter Stores: Call Now 9674975029