GOOGLE KNOWLEDGE PANEL VERIFICATION INDIA: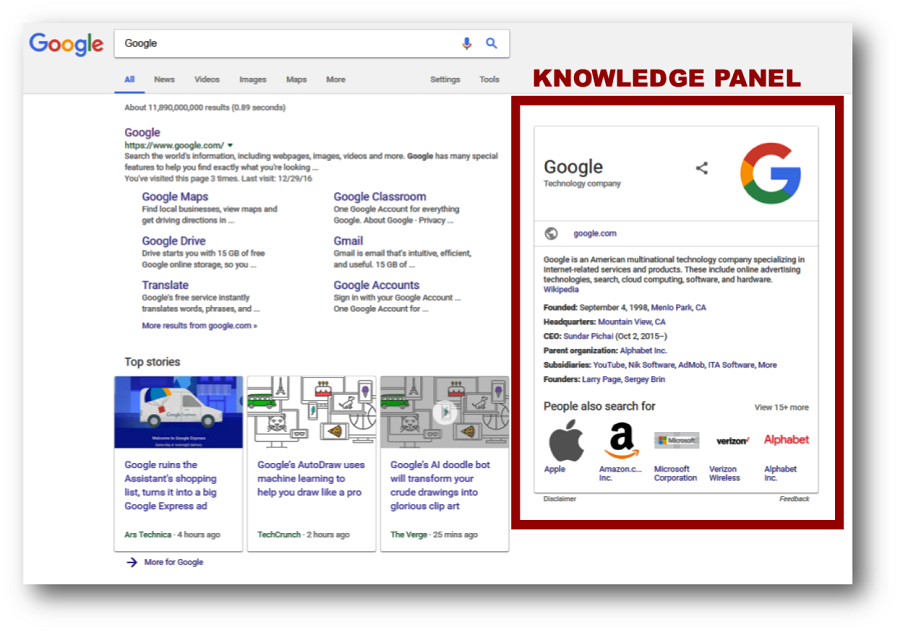 WHAT IS GOOGLE KNOWLEDGE PANEL OR GRAPH:
Knowledge panels are information boxes that appear on Google when you search for entities (people, places, organizations, things) that are in the Knowledge Graph. They are meant to help you get a quick snapshot of information on a topic based on Google's understanding of available content on the web.
Knowledge panels are automatically generated, and information that appears in a knowledge panel comes from various sources across the web. In some cases, we may work with data partners who provide authoritative data on specific topics like movies or music, and combine that data with information from other open web sources.
We also know that entities whose information is included in knowledge panels (like prominent individuals or the creators of a television show) are self-authoritative, and we provide ways for these entities to provide direct feedback. Therefore, some of the information displayed may also come from verified entities who have suggested edits to facts on their own knowledge panels.
Images that appear in the knowledge panel can come from several sources. One source is those individuals that have claimed their knowledge panels and selected a featured image from images available on the web. Other images (especially when there is a collection of multiple images) are a preview of Google Images results for the entity and are automatically sourced from across the web. [Taken from Google Support]
GOOGLE KNOWLEDGE PANEL VERIFICATION:
Knowledge graphs are also important for social media verification process. Specially facebook, instagram and Twitter. Knowledge graph gives you the social proof so verification is accepted and you can get the blue tick.
WHY GOOGLE KNOWLEDGE PANEL VERIFICATION IMPORTANT?
If Google decides you or your business deserves a knowledge panel, it's a sign that you've arrived, that you've made it – a status symbol, even.
When you have a knowledge panel, it not only confirms that you're doing superior search engine optimization (SEO), it also makes you stand out from the crowd on the SERPs for topics about your company or brand due to the prominence of the information box itself. Having your company or brand's website prominently displayed on a search page can lead to a major increase in clicks and visitors.
BENEFITS OF GOOGLE KNOWLEDGE PANEL VERIFICATION FOR BUSINESSES AND INDIVIDUAL:
Increased visibility on the web
Established authority
Higher engagement with search engine users
Knowledge panels are also crucial when it comes to voice queries, which are becoming increasingly popular among search engines. Knowledge panel summaries typically are the information that gets returned when voice queries are made. Google Assistant is now built into over a billion devices, and nearly 70% of search queries are now being expressed in natural language or voice searches.
WHAT ARE THE DIFFERENT TYPES OF GOOGLE KNOWLEDGE PANELS AND HOW DO YOU GET ONE?
When it comes to knowledge panels, there are two basic types: local panels and brand panels. The difference typically depends on the geographic location a person is searching from and whether the search topic is a local, national, or global entity.
Another major difference is that Google decides who gets a branded or personal panel, whereas local businesses must meet certain criteria and take steps of their own to be considered for receiving a local panel.
Since a person or business cannot create a knowledge panel on their own, the best you can do is take steps to position your brand or company so that Google will consider you for a panel. These steps include creating a Wikipedia page for your entity and using Schema Markup to tag your website elements.
HOW TO CLAIM KNOWLEDGE PANEL ON GOOGLE:
To verify that you're an authorized representative for the entity, follow the steps below:
Ensure that you have a Google account. If you don't, then create a Google account.
Go to Google Search.
Search for yourself or the entity you represent and find its knowledge panel.
Scroll to the bottom and click Claim this knowledge panel.
Review the displayed information about features granted after verification.
Sign in to one of the official sites or profiles listed to verify that you're an authorized representative of an entity on Google. The list of options include:
YouTube
Search Console
Twitter
Facebook
PR FOR KNOWLEDGE PANEL:
If you want to be found for search terms like your name, brand, or business name, a Google Knowledge Panel is really useful! If Google decides to show you or your business in this panel, you pretty much dominate the search results on the right side of the screen in desktop search. In mobile, the panel will appear between other results but is pretty dominant as well.
A Knowledge Panel will, therefore, make sure your company or brand image stands out in the search results when people are specifically searching for it. That'll give you lots and lots of clicks. This does make sense: if people are searching for you or your brand name, they probably want to find your website. So Google's providing them with the best result.
To be there in the knowledge panel, digital PR is required regarding the brand or the individual. In India, we can help you create the PR presence in terms of online PR and finally claiming the knowledge panel. Check out the PR list below which are sufficient to create and claim the knowledge panel.
Mid-day
Hindustan Times
Deccan herald
Deccan Chronicle
Asian age
Filmymantra
Yahoo+ Latestly
News X
Influencive
News track live
DNA
Ubj
Asian age
Ibtimes
Cinetalkers
Nagpur orange's
Daily hunt etc…..
There are many digital pr platforms are there. But we suggest picking up at least 15 – 17 platforms so that the claim for the knowledge panel becomes easier.
Contact us at +919674975029 for creating a list of PR and claim knowledge panels. The package starts at INR 80,000. Time duration approx 30 – 40 days.