RESULTS FOR DIAGNOSTIC CENTRE WE WORKED FOR ALMOST 1 YEAR: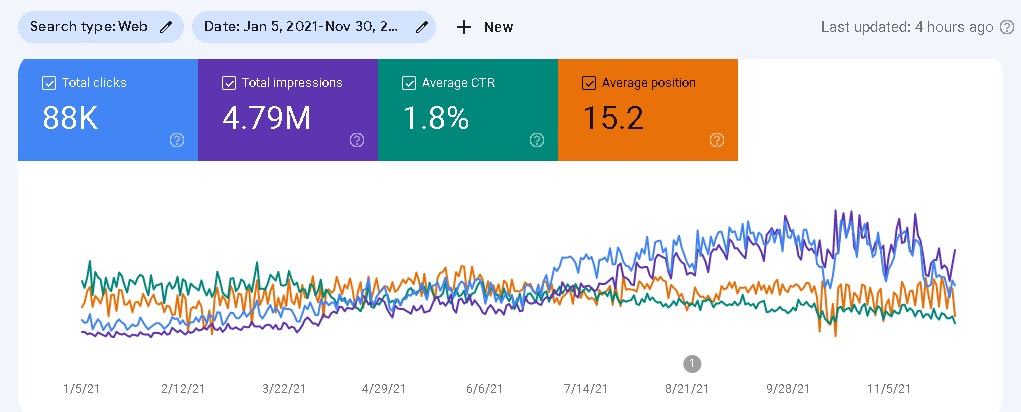 Approximately, 88% of people look online for health information and 70% of people report that the health information they find influences a decision about treatment. Digital marketing paves a great way to make you stay connected with current and new patients whenever they are in need.
Digital marketing has breathed a new life in the healthcare industry by strengthening the visibility of your hospitality services in the online space. Through digital marketing, you can reach out to patients and healthcare aspirants worldwide, build trust among the audience, and expand the growth of your healthcare services.
In order for any hospital, group medical practice or for the healthcare provider to effectively compete in this rapidly changing landscape—to reach, attract and retain new patients and cases—they need to work with the newest digital tools. Online marketing, digital advertising, social media platforms and other technology tools reach and engage today's audience. What's more, these ever-present tools are sophisticated and highly effective.
Digital marketing services for your healthcare services is the need of the hour. If you have not implemented any digital marketing techniques for your healthcare service, now is the right time to embrace it.
Suggested Channels for digital promotion for Hospitals:
SEO, Content – Long-term website discovery of services and doctors' list
Social media with creative and communication campaigns for awareness, reach and branding
Online appointment – Chatbot, whats app automation
Google search ads for branded keywords
Display campaign with great Hospital communication
Outdoor communication at nearby Hospital area [comes under 360 degree communication]
Google My Business Optimisation
Email communication periodically
BASE DIGITAL MARKETING PACKAGE FOR HOSPITAL:
Base website INR 30,000 + tax (domain and hosting extra cost) – One-time cost
Digital Marketing Monthly Deliverable – Recurring monthly cost – INR 35,000 + GST

Complete SEO of the hospital website + Keywords research
Focus set of keywords, page creation, content plan, blog ideas
Onpage – Title, description, H tags, keywords, robots, speed, UX suggestions
3000 – 3500 -word content (web content + blog posts)
8 creative with ad copies for social media + adaptation for social channels and website banners as per requirement
Ad campaign design, monitoring and management reporting (ad budget is extra and charged in actual)
1 digital PR release each month
3 – 4 influencer outreach (bloggers and instagrammers) each month (fashion, lifestyle as per industry categories etc)
5 – 10 standard links each month [QnA, business listings etc]
Adding 5 – 7 reviews to Google map + business verification
Reporting, tracking, measurement etc.
Frequently asked questions on hospital marketing strategies:
Should a hospital go for traditional or digital marketing?
Marketing is an indispensable part of every industry. If you feel that you don't need marketing as you are the best in your field then you are wrong as this information has to be communicated well with your potential patients. In a world where every other hospital is marketing itself as an ace in some field, you won't want to fall behind in this game. A well-marketed service receives more customers which mean more mouths to praise and attract more customers through word of mouth. Now let's talk about the best way to market your services. Traditional marketing alone is not the best way to market in the 21st century. People engaged on mobile screens have very little time to look around and wonder about the banners by the side of roads. Digital marketing along with a mix of traditional campaigns can be a great solution for your marketing efforts. Starting with digital campaigns is also a great idea as the ROI of a well-targeted digital campaign is much higher. You can reach more people at the fraction of the cost through digital campaigns.
Why one should opt for hospital digital marketing?
Many hospitals are making mistakes of not marketing their services online. On the other hand, the hospitals that are opting for digital marketing are getting far ahead in the game of customer acquisition. Previously when the internet was dormant in India, word of mouth played a huge role in the choice of hospitals. Over the past few years, family dynamics and individual behaviour have changed a lot. Pandemic played a huge role in digitisation and contactless consultation from hospitals. Now, people trust online research more and this trend is more prevalent in towns, cities and metropolia. Digitisation of medical services has allowed hospitals to reach more people. And some hospitals are using this opportunity to get ahead of others. Digital marketing helps hospitals to rank higher on internet search results. You would want your hospital's name to pop when a person goes online to search nearby hospitals. Giving your rivals a chance to flash their names in front of potential customers isn't a great idea. Word of mouth still holds water on the internet. People read reviews posted by patients who have experienced the service of these doctors and hospitals. Online PR becomes important in such cases. A hospital featured in a publication builds trust among the people. A positive story about the hospital or doctor on these online publications can earn them brownie points which are the social currency for trust, loyalty and goodwill.
Why Hospitals should combine Digital advertising with Digital PR?
Any publicity is good publicity – this doesn't hold true for the Hospitals. You want your hospital to be remembered but you don't want your institute to be remembered in a negative light. Hospitals not only need to reach more people; they need to gain their trust too. You want your hospital to be remembered positively and PR plays a huge role in it. Being praised by big-ticket news portals can solve half your problem as research shows that people unquestionably trust news portals. The amalgamation of the right advertising and right PR can do magic for hospitals and nursing homes. Our digital marketing strategy uses both tools. You can contact us for knowing our plan of action. We will charge you nothing for consulting us.
Call us at 9674975029 for digital marketing requirements for Hospitals.