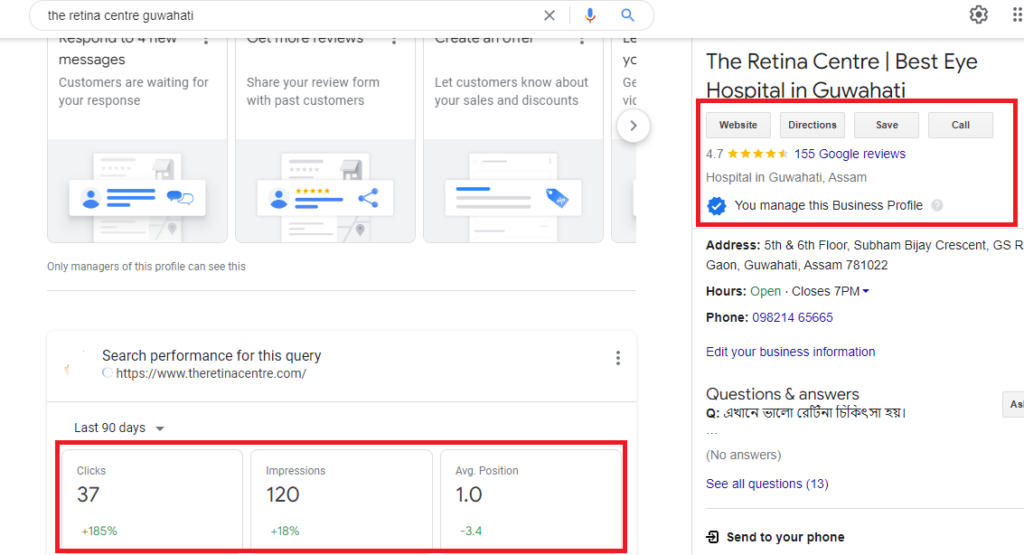 Get More Customers From Google My Business (Google Map Optimisation)
See your business appear first on the map
Today almost half of all Google searches show local search results. This means getting to the top of the page requires a winning Google My Business profile. Let us take away the hassle and headache of optimizing your Google My Business profile.
Another challenge business owners face when managing their GMB listing is customer reviews. According to Inc., 91 percent of consumers read online reviews either occasionally or regularly. If a business's GMB listing isn't properly optimized, it will struggle to attract positive reviews, thus limiting the utility of this otherwise powerful marketing tool.
Our Services tags: My business listing, google business listing, Google My Business Listing, google local listing, add my business to google, google my business agency & google my business services.
How Important is Google My Business Optimization – Single / Multiple ?
Google My Business optimization service allows you to:
Attract attention to your brand
Earn consumer trust
Boost your local
Strengthen your online reputation
Provide accurate information to online users
Drive quality leads and traffic to your website
Engage with customers
Rank high on search results
Build your brand authority
Create and share updates, events and announcements
Maximize your chances of appearing on Google's Local 3-Pack
Google My Business Listing and Marketing Package:
Set up cost, one time: INR 4,000 + tax [Listing, verification, optimisation with keywords and content, 10 reviews, images, links]
Maintenance for 3 months – INR 6,000 + tax [Reviews, content, product and service listings, business images listings, suggestions for further SEO work, website integration].
How to optimize GMB for multiple locations
Managing a single Google My Business account is pretty straightforward. But how does this work if you manage multiple locations for the same business? Managing multiple Google my business listings can be tricky for obvious reasons, like having to maintain separate profiles and ensure they all have accurate information.
As a digital marketing company with years of experience doing local SEO for multi-location businesses, we've seen the many ways companies can confuse their listings and let best practices fall to the wayside. To address this, we've compiled an overview of Google My Business and its benefits, how to set up listings for multi-location businesses, best practices for optimization, and how to see if it's all working.
How to set up Google My Business when you have multiple locations
The easiest way to set up Google My Business profiles with multiple locations is to use bulk location management. Bulk location management allows businesses with 10 or more locations to add, verify, and manage their locations all at once, which simplifies the process significantly.
To use bulk location management you'll need to create a Google account and location group for your business. You can then create and upload a spreadsheet with all of your locations' information and request bulk verification.
Google My Business optimization package for multiple locations:
If you are having more than 10 locations (stores, dealers etc), the following package you can opt for –
One-time work:
——————–
Can we get a hygiene check on all locations – For example Restaurant chain
1. Accurate lat long
2. Correct CC number
3. Delivery / Dine in / Takeaway status
4. Standardised pics. – you will share the images, logo cover, content etc. We shall update them.
5. Redirect to website should land on our menu page
+ guidance and notes.INR 800 + gst 18% each location.
Once done, we can have maintenance and allied promotion collaboration for the brand later on.
Call us at +919674975029 for more details.