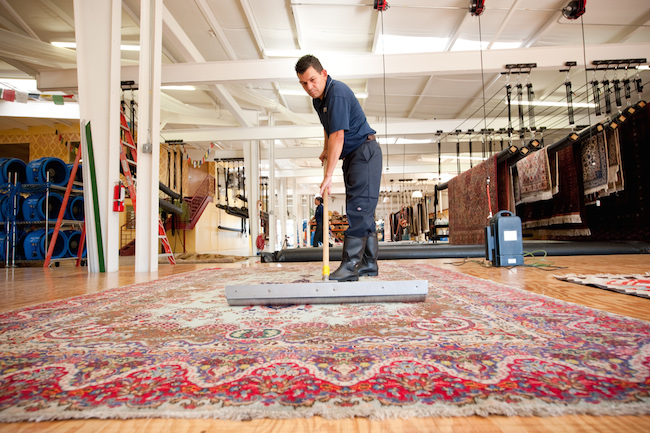 Carpet/RUG Cleaner INDUSTRY OUTLOOK GLOBAL
The global carpet cleaning products market size was valued at USD 1.4 billion in 2018 and is expected to grow at a compound annual growth rate (CAGR) of 4.5% from 2019 to 2025. Rising consumer inclination towards hygiene and cleanliness is a key factor driving demand for carpet cleaning products over the forecast period. Besides, the rising preference for these products owing to their rich aesthetic appeal has resulted in carpet purchases, thereby widening the market scope.
Increasing the adoption of carpets, particularly in Western countries, has driven the market for cleaning products. Increased exports of handmade carpets from India are growing at a steady pace. Demand for Indian carpets is high, particularly in developed countries. Therefore, countries such as the U.S., Canada, Germany, and other developed economies witness an increased inclination towards carpet cleaners for their proper maintenance. Moreover, increased purchases for carpets result in consumers' inclination towards saving time, cost, and efforts in cleaning the floors owing to a hectic lifestyle.
Carpets are also used as a safeguard tool against minor accidents and injuries such as slipping or falling, which is expected to drive their sales. This, in turn, will fuel the demand for cleaning products, particularly in residential places. Furthermore, rising environmental concerns across regions have urged consumers to invest in green cleaning products consisting of chemical-free ingredients.
Data Source – grandviewresearch.com
Carpet/RUG Cleaner Marketing India
When marketing your carpet cleaning business today, you have more options than ever before. Multiple channels and diverse strategies can help you connect with your target audience in many ways to help grow your business. However, creating and implementing an effective marketing plan on your own can be challenging, which is why you should choose to work with carpet cleaning marketing professionals, like those at DPW, who can help you achieve your business goals efficiently and effectively.
Being an expert in carpet cleaning means you are probably not also an expert in web design, advertising, SEO, social media management, content marketing, or branding. If you are not, then working with professional carpet cleaner marketers is the right choice for you, and DPW has years of experience supporting businesses just like yours to expand in your local area.
There are a few areas of focus that will really benefit your carpet cleaning business. By investing marketing dollars in creating a great website that is SEO-friendly while also embracing multiple advertising channels, including video marketing, pay-per-click ads, remarketing, local search marketing, and much more, new customers will find you easily, and your carpet cleaners will be busier than ever before.
Branding Solutions for Carpet Cleaning Companies
When it comes to marketing for a carpet cleaning company, there can be a whole bunch of challenges faced by
marketers and businesses alike. It is important to make sure that when people around you look for carpet cleaning
services online, they are able to see you. And this is possible only with expert carpet cleaning marketing services
directed at getting you the attention and traffic you need.
While you are focused on your business operations, it becomes important to have a reliable professional in charge of
helping you with web design, SEO, emails, video marketing, social media management and other essential carpet
cleaning online marketing services.
SEO AND DIGITAL MARKETING PACKAGE FOR CARPET/RUG CLEANING SERVICES COMPANIES:
Keywords research, Complete SEO of the business site
Focus set of keywords, page creation, content plan, blog ideas
Onpage – Title, description, H tags, keywords, robots, speed, UX suggestions
3500-word content (web content + blog posts) [ will work on as many keywords as possible in first 6 months]
8 -9 creative with ad copies for social media + adaptation for social channels and website banners as per requirement
2 influencer outreach (bloggers and/or instagrammers / guest posts) each month as per industry categories / same budget ad spend
Adding 5 – 7 reviews to Google map + business verification
CRO suggestions and implementation with in-house developers
Strategies paid ad campaigns on social and google media – for brand awareness and consideration [performance marketing]
Reporting, tracking, measurement etc.
Retainer fee INR 24,000 + tax (18%) (USD 290/1200 UAE) each month. Minimum 6 months contract.
Contact us at 9674975029 for carpet cleaning services and digital promotions.