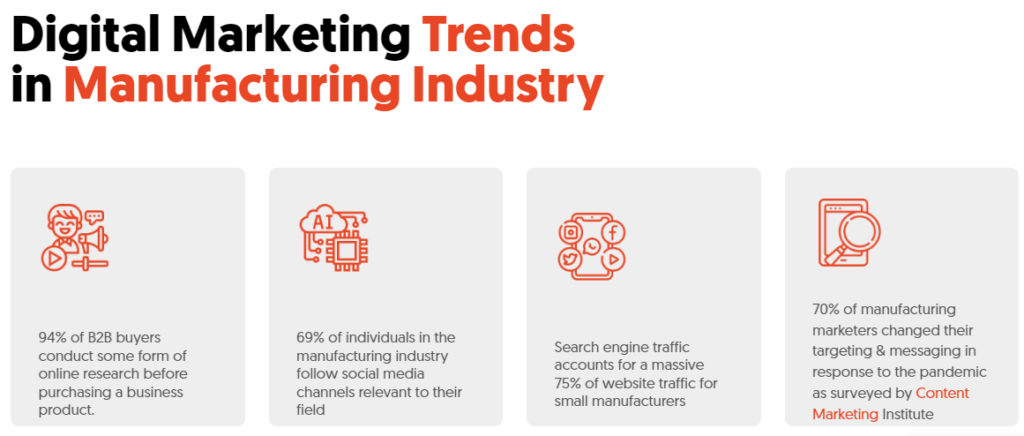 Digital marketing for manufacturing industries and brands
The aim of business-to-business (B2B) manufacturing marketing, is to connect your manufacturing company with wholesalers and distributors, ensuring your customers obtain your product. B2B marketing has become almost identical to B2C (business to customer) marketing due to the customer conducting more thorough research during the sale process, and more notably, expecting a more digital experience, especially in the industrial and manufacturing industry with 67% of purchases being influenced by digital marketing. A model that B2B manufacturing marketing professionals can utilize is the RACE planning system, which covers the full customer lifecycle, including paid, owned, and earned inbound marketing activities. (Plan) > Reach > Act > Convert > Engage It can be used to identify improvements to your customer lifecycle by generating awareness to build your audience, encouraging interaction, lead generation, purchase, and then loyalty.
Inbound marketing is generally focused on showing up for people who are searching for what you offer. Inbound marketing tactics can include:
Website content & articles
Educational and/or gated content
Search engine optimization
Video content
Webinars
Social media content & campaigns
Search / PPC ads
Email nurture campaigns
Why do manufacturers need digital marketing activations?
Manufacturers who rely heavily on traditional marketing means such as trade journals and trade events can reach a broader market with targeted advertising and a social presence. Digital marketing for the manufacturing industry is currently one of the best ways various companies can promote their brand whether B2B or B2C. While marketing overhead in manufacturing organisations is often minimal, it may be reduced further concerning outcomes. Digital marketing has lowered the Return on Investment (ROI) for businesses in various industries. Furthermore, 89 percent of B2B clients use the Internet to study organisations in any industry, and the figures for B2C prospects are comparable.
An active and well-curated web presence may help a manufacturer's image and acquire the trust of potential consumers. Manufacturers may have to venture into uncharted territory to capitalise on these potential advantages. Fortunately, Digital Marketing is theoretically straightforward, and extensive research has already established industry best practices.
BASE SEO & DIGITAL MARKETING PACKAGE FOR manufacturing industries:
Base website INR 35,000 + tax (domain and hosting extra cost) – One-time cost
Digital Marketing Monthly Deliverable – Recurring monthly cost – INR 32,000 + GST

Complete SEO of the business site + Keywords research
Focus set of keywords, page creation, content plan, blog ideas
Onpage – Title, description, H tags, keywords, robots, speed, UX suggestions
3000 – 3500 -word content (web content + blog posts)
8 creative with ad copies for social media + adaptation for social channels and website banners as per requirement
Ad campaign design, monitoring and management reporting (ad budget is extra and charged in actual)
3 influencer outreach (bloggers and instagrammers) each month (fashion, lifestyle as per industry categories etc)/1 small pr
Amazon and Flipkart Account Management
5 – 10 standard links each month [QnA, business listings etc]
Adding 5 – 7 reviews to Google map + business verification
Reporting, tracking, measurement etc.
CALL US AT 9674975029 FOR SEO & DIGITAL MARKETING REQUIREMENTS FOR manufacturing companies' digital promotions.