Global Foxnut – Makhana Market Growth
The fox nuts market is expected to grow at a compound annual growth rate of 6.37% over the forecast period to reach a market size of US$197.515 million in 2027, up from US$128.184 million in 2020.
Fox nut (Makhana), also known as Gorgon Nut, grows in India, Korea, Japan, and Russia. Its market is expected to grow at a decent rate in the next 7-8 owing to the increasing demand for fox nuts among health-conscious consumers and the launching of various new products. The rising popularity of fox nuts among all age groups, changing lifestyles, and unique varieties of snack products will boost the market growth in the coming years. Fox nuts come from lotus seeds. The manufacturing process of fox nuts is done in 4 chronological stages, which include the collection of the seeds, cleaning, and storage, gradation process, and then getting the final product, i.e., the white puff fox nuts. According to the Indian Journal of Traditional Knowledge, the seeds are highly nutritious and edible after being processed. Health benefits and uses of fox nuts are resulting in more vigorous growth of the fox nut market around the globe. ~ knowledge-sourcing.com
Makhana Marketing Channels
Channel One: Farmer > Local Aggregator > Processor > Wholesaler > Retailer > Consumer
Channel Two: Farmer > Processor > Wholesaler > Retailer > Consumer
Channel Three: Farmer cum processor > Retailer > Consumer
The above marketing channels are some of the popular mechanisms that makhana farmers make use of to sell the produce. Different marketing channels have different efficiency levels and thus different profit margins for the farmers. Mostly, the smaller the chain, the higher the profit and the less time is consumed to reach to the customers. There has been a concentrated effort to remove inefficiencies in the makhana marketing channels so that to increase the revenue receipts for all stakeholders involved in the value chain. ~ www.makhana.org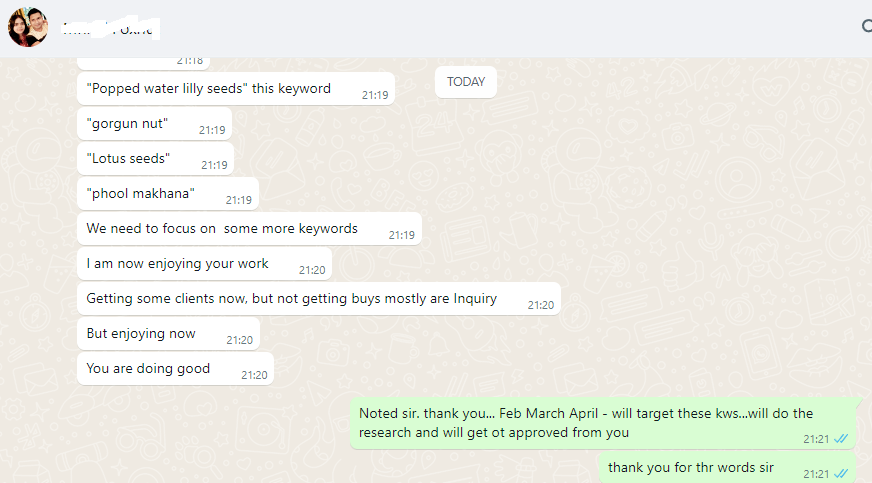 DIGITAL MARKETING STRATEGIES FOR MAKHANA (FOXNUT) COMPANIES IN NUTSHELL:
Lead generation – Start google ads for bulk leads, wholesale leads
Branding and visibility – invest on social media, shopping ads, Google map, PR
Traffic and organic growth of the business – Invest on SEO, content, outreach
Go with Amazon and Flipkart for D2C experience
See where from the sales are coming from, invest in those areas with communication and leads
BASE SEO DIGITAL MARKETING PACKAGE FOR MAKHANA (Gorgon Nut) COMPANIES:
Base website INR 25,000 + tax (USD 350/1200 UAE)
(domain and hosting extra cost) – One-time cost
Digital Marketing Monthly Deliverable – Recurring monthly cost – INR 24,000 + GST (USD 300/1150 UAE)

Complete SEO of the business site + Keywords research
Focus set of keywords, page creation, content plan, blog ideas
Onpage – Title, description, H tags, keywords, robots, speed, UX suggestions
3000 – 3500 -word content (web content + blog posts)
6 creative with ad copies for social media + adaptation for social channels and website banners as per requirement
Ad campaign design, monitoring and management reporting (ad budget is extra and charged in actual)
2 influencer outreach (bloggers and instagrammers) each month (fashion, lifestyle as per industry categories etc)/1 PR / same budget spend on search ads
5 – 10 standard links each month [QnA, business listings etc]
Adding 5 – 7 reviews to Google map + business verification
Reporting, tracking, measurement etc.
If you are a makhana company or manufacturer, contact us at – +919674975029.
We worked with Bihar-based makhana company FOXNUT INDIA on their SEO and traffic-building strategies.