RESULTS FOR DIAGNOSTIC CENTRE WE WORKED FOR ALMOST 1 YEAR: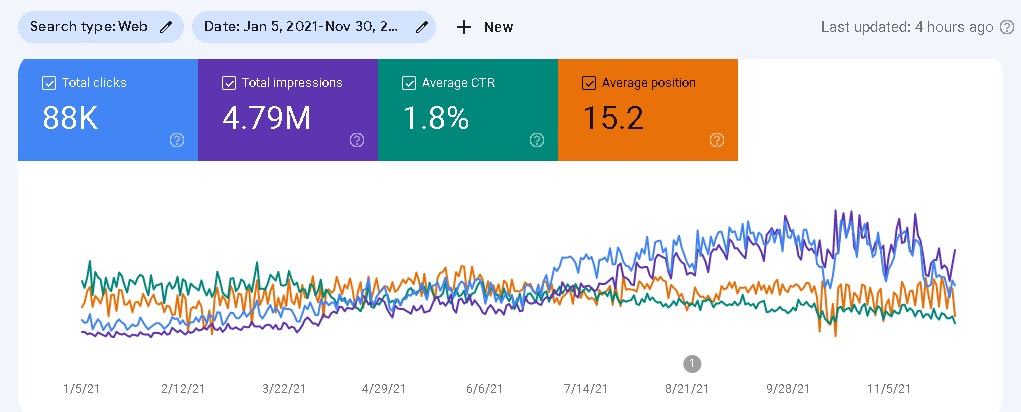 You may think your nursing home business doesn't need an online presence, but in today's digital world, it's more important than ever! We know it can be a little overwhelming, but we have some digital marketing tips that can lead you in the right direction and make major improvements to how people are seeing you online. Nursing home administrators and owners have relied on traditional marketing practices like referrals to ensure business growth. Although most nursing homes have adapted to their organization online, some nursing home companies remain reluctant to spend on digital marketing, especially if they do not see its value as a revenue-boosting activity.
Get Started With Digital Marketing for Your Nursing Home:
As more and more people become tech savvy, they turn to the internet to find all the answers to their questions. But how can your nursing home business look more appealing to potential customers?
Digital marketing helps nursing homes attract prospective patients with a more extensive reach than non-digital campaigns. Your nursing home should focus on marketing strategies that effectively establish you as an authority in your industry and promote a trusting relationship with your prospective patients.
We have experience supplying internet marketing for all types of care facilities for seniors through search engine optimization (SEO), paid advertising, social media, and more. All of these services can help to showcase your community and all they can provide for the seniors and families searching online for locations just like yours.
Digital Marketing Strategies for Nursing Homes:
Since nursing homes are mostly local and area-based medical service industry, so local and hyper-local digital marketing strategies will work great for them.
Have one website – this is the first thing the nursing-home owners must do
Invest on SEO
Social media promotion for awareness, list of doctors, operations you conduct etc
Engage few local influencres and local news portals
BASE DIGITAL MARKETING PACKAGE FOR nursing-homes:
Base website INR 25,000 + tax (domain and hosting extra cost) – One-time cost
Digital Marketing Monthly Deliverable – Recurring monthly cost – INR 24,000 + GST

Complete SEO of the business site + Keywords research
Focus set of keywords, page creation, content plan, blog ideas
Onpage – Title, description, H tags, keywords, robots, speed, UX suggestions
3000 – 3500 -word content (web content + blog posts)
8 creative with ad copies for social media + adaptation for social channels and website banners as per requirement
Ad campaign design, monitoring and management reporting (ad budget is extra and charged in actual)
3 – 4 influencer outreach (bloggers and instagrammers) each month (fashion, lifestyle as per industry categories etc)
5 – 10 standard links each month [QnA, business listings etc]
Adding 5 – 7 reviews to Google map + business verification
Reporting, tracking, measurement etc.
FAQs on nursing home digital marketing:
Should Nursing Homes go for traditional or digital marketing?
A well-marketed service receives more customers which mean more mouths to praise and attract more customers through word of mouth. Marketing your brand keeps you relevant in your field bring new opportunities for you, and create a lasting impression on your customers and collaborators. Perception matters a lot in business, more so in the field of medical care. A great marketing strategy keeps you in control of people's perceptions of you. In the field of medical care and nursing, self-perception takes a backseat as people's perception of you matters a lot. Building trust is a big part of attracting customers in the field of nursing. Trust is a key element Traditional marketing, but traditional marketing alone is not the best way to market in the 21st century. People engaged on mobile screens have very little time to look around and wonder about the banners by the side of roads. Digital marketing along with a mix of traditional campaigns can be a great solution for your marketing efforts. Starting with digital campaigns is also a great idea as the ROI of a well-targeted digital campaign is much higher. You can reach more people at the fraction of the cost through digital campaigns.
Why one should opt for Nursing Homes digital marketing?
A nursing home should not make the mistake of not marketing its services online. Digital marketing is helping many medical care brands to get ahead of the ones who are not marketing themselves. As a Nursing Home, you would want people to know about your services. Even if you bring top-notch medical practitioners into your nursing home, it won't matter if your potential customers don't know about him/her. Marketing can get you far ahead in the game of customer acquisition. Digital marketing helps nursing homes to rank higher on internet search results. Local SEO is a great tool for nursing homes as localities gain awareness about their services. It makes sure that the name of your Nursing Home pops up when people need it. Giving your rivals a chance to flash their names in front of potential customers isn't a great idea. WOM Marketing is crucial for digital marketing as well. Creating a buzz and getting viral for positive reasons should be part of your digital marketing campaign. People also read reviews posted by patients who have experienced the service of these doctors in your nursing home. They also talk about the overall experience there. Online PR becomes important in such cases. A Nursing Home featured in a publication builds trust among the people. A positive story about the Nursing Home or doctor in these online publications can earn them brownie points which are the social currency for trust, loyalty and goodwill.
Why Nursing Homes should combine Digital advertising with Digital PR?
Any publicity is good publicity – this doesn't hold true for the medics, doctors and Nursing homes. You want your Nursing Home to be remembered but you don't want your institute to be remembered in a negative light. Nursing Homes not only need to reach more people; they need to gain their trust too. You want your Nursing Home to be remembered positively and PR plays a huge role in it. Being praised by renowned news portals can solve half your problem as research shows that people unquestionably trust news portals. The amalgamation of the right advertising and right PR can do magic for nursing homes. Our digital marketing strategy uses both tools. You can contact us for knowing our plan of action. We will charge you nothing for consulting us.
Call us at 9674975029 for digital marketing requirements for Nursing Homes.